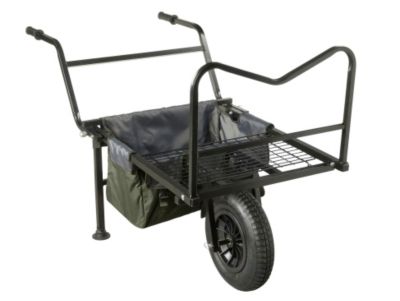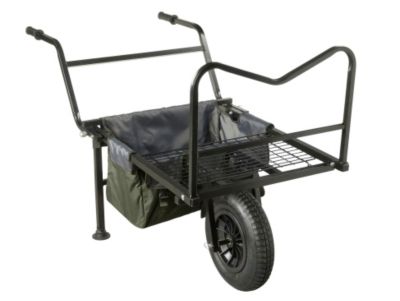 Details null
http://www.jrc-fishing.co.uk/jrc-equipment-jrc-contact/contact-barrow/1377133-0300.html
Product Actions
Unique handle-folding system
Heavy duty steel frame
Black non-glare powder coating
600D nylon barrow bag included
2 elastic straps included
The Contact Barrow was created to solve practical difficulties. The size and complexity of dismantling a standard barrow has always been an issue but, thanks to the clever handle-folding system, the handles can be stowed underneath the frame for transport within seconds and the wheel is quickly detachable. In addition to saving time and space, this barrow offers the strength and durability that Contact products are famous for.
Product Reviews
Contact Barrow
is rated out of
5
by
10
.
Rated

5

out of

5
by
KentKarper
from
Great Value Compact Barrow
This barrow has a great folding mechanism which makes it a doddle to set up, removing the wheel is very easy to do and saves space in the car. It's not too heavy either so lifting it isn't a problem. As this effectively folds in half the handles aren't removable so if you have a small car check it will fit or drop the back seats and it will fit no problem. Check the JRC YouTube page and there is a video on there showing it folded. Once the barrow is loaded it's very stable, balanced and easy to push. I've loaded this up with bedchair, daychair,Bivvy, rods, holdall and 10kgs of bait and the barrow coped very well. The fact it has a grill in the front section is great as smaller chairs/bags can be loaded and wont fall through the frame, meaning I can use this with non carp gear when a long walk from the car is expected! The Inclusion of the under barrow bag and straps are very welcome and add to the appeal of this barrow. At this price point you can't really go wrong. Overall a very nice piece of kit does the job perfectly for what I need.
Date published: 2016-05-17
Rated

5

out of

5
by
Waynelakin53
from
Best barrow ever made
I brought this barrow and I used it to go night fishing and I got my stuff and my son's stuff on it in one go witch was good because my ankle is playing up so can't walk on it but this helped me a lot because the car was far away from are swim so I didn't really want to go back and forth but I didnt have to with this barrow.
Date published: 2016-08-13
Rated

5

out of

5
by
Smiffy
from
Does what it says on the tin.....
My wife bought me this for Christmas last year. Find it perfect. Folds down nice and small and doesn't weigh a ton. Get's plenty of gear on for long sessions and is well balanced. I wanted something that didn't take up too much space and this certainly fits the bill.
Date published: 2017-10-02
Rated

4

out of

5
by
Roland123
from
Fold Down Flat
I chose this barrow because it folded down to the size of a chair, ideal if you have limited space. Very pleased with the barrow except one of the silver knobs that you use to pull out the pin the holds the arms and legs in place has come off so the barrow can't be folded down. The barrow has been replaced so not a major problem but worth keeping an eye on.
Date published: 2017-11-09
Rated

1

out of

5
by
leigh864
from
Barrow pin design fault, falls out under stress
Had it for a few months, loaded with my carp gear it started squeaking and found a pin holding the wheel had fallen out. It came with a spare but that looks like it will fall out as well as it has the wrong angle on the pin. i think its part of the design to be detachable but it just means the pin doesnt hold properly under stress and cornering with weight.
Date published: 2020-09-06
Rated

4

out of

5
by
jimbo68
from
Strong barrow
Very happy with the barrow but wish you could buy luggage to fit it, no other brands bags or side bags fit this barrow.
Date published: 2017-10-29
Rated

4

out of

5
by
The Cannon
from
A great barrow, would benefit from stabilisers
Very pleased with the barrow, it carries all my gear and loads into the back of my SUV once the side bars and handles are removed. It would benefit from stabilisers as it tends to capsize when fully loaded. It would be good to be able to get a more robust cover, as I have to store it outside, the supplied cover is quite flimsy and leaks.
Date published: 2018-05-04
Rated

3

out of

5
by
Dave88
from
Not good on corners
The barrow is well constructed and robust, it can take everything I need for a day at the lake.. As other comments, when it's loaded up it has a nasty habit of capsizing - both embarrassing and a real pain to re-load. Some sort of stabilisers would be a welcome addition to the MkII, or possibly an upgrade kit :)
Date published: 2020-04-13