Kurve Indicator System Sets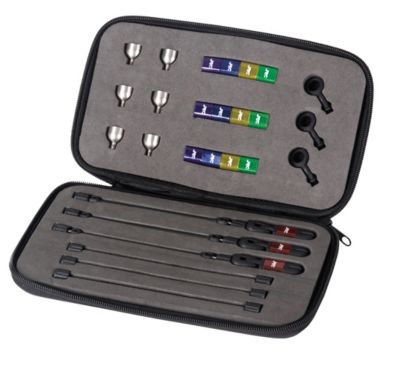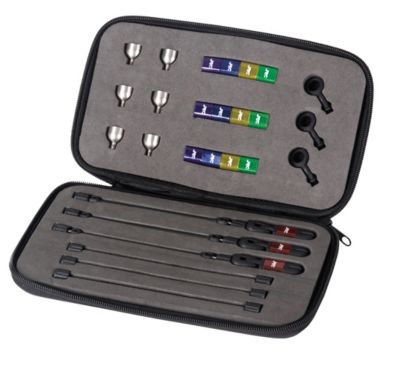 Details null
http://www.jrc-fishing.co.uk/jrc-catch-management-jrc-kurve/kurve-indicator-system-sets/1377132-0300.html
Product Actions
Designed and engineered in England
Clever hinging indicator body
Unique line grip or free running clip
Black ball chain
Rigid swing arm with a unique integrated metal aligner system
5 clip-on lenses, each with a different appealing colour
Beta-light slot behind the colour lens
2 additional add on weights
Supplied EVA case
Introducing one of the most versatile indicators available today. The Kurve Indicator features an articulating head and unique line clip system which can be set to grip the line or allow it to run freely. These two key factors mean that the Kurve can be adjusted to be incredibly sensitive at picking shy bites or adjusted to minimise false bites caused by wind etc. Thanks to the flattened surface of the Kurves body, the indicator can be positioned flat on the ground when fishing slack line, again increasing sensitivity and decreasing false wind related bleeps. Five colour lenses are included so you can 'pimp' your Kurve up and, with both a chain and swing arm you can tailor the indicator to your preference. Don't settle for less indication - go for the Kurve!
Product Reviews
Kurve Indicator System Sets
is rated out of
5
by
5
.
Rated

1

out of

5
by
rik 56
from
not great
i purchased these at the Big One in april 2017 and tried them for the first time last week, when attached as a free running indicator the first carp i hooked into screamed off and when i struck into it the line would not release unless i gave it a really hard tug,this happened on all indicators it seems that once the line is attached it is to tight unless you give it a hard tug on one rod i was using light line and by pulling so hard it snapped the line, not sure why they will not release the line but will not use again.
Date published: 2017-05-02
Rated

1

out of

5
by
Pooley
from
Wish I had read the reviews first
Bought 2 sets of these, one as a present and one for myself. Set them up and noticed they were very tight marking my line and when I tried to test them they would stick when they got near the alarm, I put them straight back in the box. With a good run, they would snap the line or pull my rod pod in to the water. Am I using these incorrectly?? I'm not new to this. Both sets are the same, fortunately my brother grabbed his rod before it was ripped in to the water by a big pike. Really disappointed
Date published: 2018-01-07
Rated

3

out of

5
by
Carp123
from
Regarding the line being stuck.
I bought these a few weeks back thinking they were smart and looked nice aswell as a bargain as ther £13 each else where, although as most people have had some problems like myself, so when we strike for a fish the line stays in the indicator, after loosing 2 fish in one night I was ready to throw them in with the fish. Thought about the eco so I didn't, when I got home I then decided to fiddle with them, as I fiddle with them I realised the little square that pops out on the side of the indicator, (!!CAUTION!! AS IT HAS A TINY SPRING. !!CAUTION!!) When the side and small spring is removed there is a plate. It took me a while but I got it out and turn it upside down. I put it back to get her and noticed instead of 8 clicks it now only has 1 and it was much easier to pull line free from the indicator, I done this to all 3 and I am happy with them now, but I'll be happier once I have tried for a second time on the lake itself and once I have done I will let you know if I catch them or the same thing happens. Shouldn't have to do this I am sure but better than throwing money away. Let me know if this helps anyone out.
Date published: 2019-04-28
Rated

1

out of

5
by
Sausage fingers
from
Shocking piece of kit
I bought these at the northern carp show this after being told by the Jrc rep how good they are Well how wrong he was the line struggles to run freely when you have a bite and then traps the line and when you go to lift your rod of the pod you have to get hold of the line and tug it out of the indicator I
Date published: 2018-07-02
Rated

1

out of

5
by
Horse
from
Terrible
Was using these they just don't realease line have to pull it out won't be using again will be seeking for a refund or someone from jrc to show us how to use them .
Date published: 2017-07-25