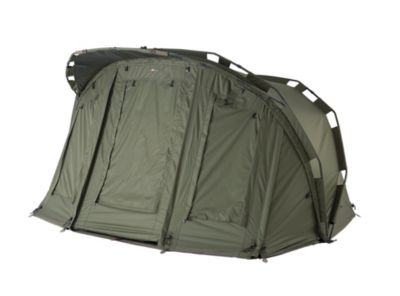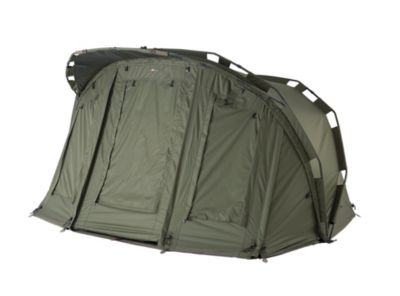 Details null
http://www.jrc-fishing.co.uk/jrc-bivvies-jrc-extreme/extreme-tx-bivvy-2-man/1377127-0300.html
20000mm HH Hydra-Tex® material
High performance 2 rib structure
Optimal foot-print / inner space ratio
Peak system
Zip-out front
2-way door construction with 3 door options (clear, green, mozzy)
Long-life HD PVC groundsheet
Large vents protected by anti-leak storm baffles
High performance zips
Taped seams
Supplied in a heavy duty zip bag
The best just got better! The Extreme TX Bivvy represents the next generation of our legendary TX Shelters, offering best in class quality and superb protection against the elements. The zip off front panel can be adjusted to three different door settings which allow for a change in wind direct without moving the entire bivvy. The large front and rear vents along with the PVC door and window panels also makes this bivvy very adaptable to the different weather conditions anglers face. Overwrap available.
View model specifications

Zoom
Product Reviews
Extreme TX Bivvy 2-man
is rated out of
5
by
6
.
Rated

5

out of

5
by
Adamski
from
Massive!!!
So I don't usually leave reviews for products but i just had to say my bit about this.... Don't know where to start. I have seen a negative review about this product over its height, for me that's not a problem even if it was the shear quality for £££ is a complete winner. This bivvy is quite simply amazing. If you are like me and like your comfort when fishing this will tick every box, the space inside is epic, I have a sonik sks bedchair, you could easily fit two of these in and still have enough space for two people over a weekend. I absolutely love the 3 front doors so many combinations for bad weather, in really good weather the rear and front mossy nets are great. Even better than that is if you just want a quick day session you can just take the front completely off and fish it like a brolly style. The material is great quality and at 20,000 hydrostatic head you cannot go wrong. I am new to the fishing world but knew I wanted a bivvy that would give me plenty of space and keep me dry, I thought I would have to spend £400-£600 for this type of quality, space and waterproofing. For £230-£260 depending where you purchase, this is in my eyes the best product on the market. The groundsheet is really heavy duty not like you normally see from a cheaper bivvy. The heavy duty pegs are exactly that. And there are enough of them to go round. It goes up in a few minutes and with a bit of practice I think I could get the whole thing pegged out, ground sheet down to my satisfaction in about 8 minutes. It comes in a great heavy duty bag that is more than big enough so no more trying to stuff a bivvy into a tiny little bag, nice little sleeve for the centre pills and again a heavy duty bags for the pegs which is big enough for a ribber mallet if you want to carry one.
Date published: 2017-05-09
Rated

3

out of

5
by
Stevexxx
from
JRC Extreem TX 2 Man Bivvy
I needed a taller bivvy due to bad back and knees, At 6'4" tall I thought the 1.6m high TX would do the job, How disappointed I was when it arrived.. Sure the quality is good but the height was well under the stated 1.6m.. The door opened gave 1.3m clearance, just behind the door the internal height was just 1.5m dropping to 1.33. half way in and 1.3 at the rear.. I did expect JRC to atleast get their measurements correct, even the width is 10cm over the 3m stated.. Sadly I shall be returning it and seeking an alternative....
Date published: 2016-05-12
Rated

5

out of

5
by
Bren
from
perfect
always loved JRC products, had my first cocoon bedchair in the early nineties, bought this bivvy two months ago, so easy to set up and pack away, totally waterproof, loads of room with two bedchairs, just cant fault it!!
Date published: 2018-10-12
Rated

1

out of

5
by
Davef1968
from
Poor Quality Mesh on the windows
I bought this Bivvy late last year and it has been used for maybe 6 24 hr sessions, this month I got it out to find the mest windows are beginning to perish in a number of places and the material has become very brittle.
Date published: 2017-09-11
Rated

1

out of

5
by
L COSMA
from
#JRC, în the last years I have bought TX2G, Quad 2G Dome and TX Extreme 2 Man. Unfortunately, the last one, TX Extreme 2 Man, which has been advertised as having a hard duty pvc groundsheet, it's coming with a groundsheet thin as a piece of paper. When I asked your representants at a carp show, they've sent me to your approved agent for UK in terms of sparring parts. I have ordered one so called hard duty groundsheet, only to find after delivery that is the same thin one. It was returned, what's the point of having 2 groundsheets so thin that if you place the chair or bedchair on it, second day you will find that you created holes in it from the chair or bedchair feets??? I'm afraid this was my last bivvy ordered from JRC. Also, I have noticed that on your website, even the dimensions to some other things, like Cocoon levelbed bedchair, are wrong. How hard it is to copy from the original boxes? The height of TX Extreme 2 Man bivvy is also wrong on your official website. Looks like you have stepped down a bit.
Date published: 2019-07-17
Rated

2

out of

5
by
dj steve
from
very disappointed the heavey ground sheet is no he
very disappointed the heavey duty ground sheet is no where near heavey duty quality the bag is rubbish ill never buy any jrc equipment again if this is the best they can do keep it
Date published: 2020-09-22